There is a lovely, romantic fantasy everyone seems to have about playing the piano outdoors. The power of this fantasy may lie in the near impossibility of achieving it, given the half-ton-or-so weight of a piano. Or perhaps the Romantic-era piano music we are all so familiar with inspires visions of mountains, forests, and seas. Countless CD covers and posters have featured grand pianos on the beach, in the woods, on mountaintops. Good luck bringing this fantasy to life, though - nature is not kind to pianos.
One common approach is to have a room especially dedicated as a piano room, with big picture windows facing out onto your favorite natural vista. If this is your dream, I have a couple of suggestions. It is pretty important to have both the room's temperature and humidity controlled so the piano is not destroyed. You will want to play in your shirtsleeves in the middle of a moonlit snowfall, for instance, or play to the setting sun with a cool sea-breeze blowing through. You will be ecstatic, but your piano will be unhappy. Direct sunlight is particularly bad. If you can't bear to have curtains and shades blocking the sun, then you need to treat the windows to lower the amount of radiation coming in and baking your piano. Your soundboard will crack within a few years no matter what you do, and the piano will never stay in tune. It may be worth it to you, though.
Another approach is to have a small, nearly portable piano that you can carry around with you. I knew of a guy who had one of those 69-note minipianos that he kept in a van. If he were camping at a music festival, he could wheel the piano down a ramp and join in on a jam session out in the woods or on the beach. Portable electronic keyboards present a similar, though much less romantic, possibility; you can get a small solid-state generator to provide the electricity (or bring a really long extension cord).
I have seen old upright pianos living on porches, somewhat protected from the elements, slowly rotting and falling apart, but available for outdoor playing until it's no longer possible.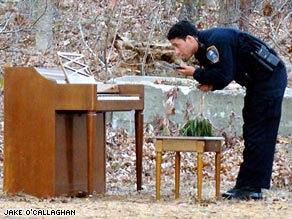 Here is one of my favorite news stories, from
CNN
in November of 2008. Someone apparently left a piano in the woods of Cape Cod, in the middle of conservation land in Harwich MA, just before Thanksgiving. It had not been there long, so it had suffered no ill effects, but no one knows where it came from or how it got there. The police were called, and they rescued it, you might say, but no one claimed it. I hope somebody besides the squirrels got to enjoy playing it under the trees.
Here's another approach: this pianist, named
Yosuke Yamashita
, has performed a couple of times on a grand piano outdoors, but with a twist. The piano is set on fire first before he plays it, and then he plays for as long as he can.
Here's
one video. I don't know if he lets the tide take the carcass out to sea, like a dead whale, but that would seem appropriate.
Now to the actual point of this post, which is the work of an English artist named Luke Jerram. Among his installations is a project he calls
Play Me, I'm Yours
. For a limited time, he places pianos in public outdoor spaces in a city, and passersby are encouraged to tickle those ivories. The pianos are later donated to organizations in the city. He has done this in Sydney, Australia, São Paolo, Brazil, and most recently, London, England, where
thirty uprights, decorated by artists, were placed
.
I love the idea of the outdoor urban piano. It is much more social than the idyllic, solitary reverie with nature most people imagine with outdoor pianos. Jerram outfitted each piano in London with a book of music, the pages laminated, so people could gather around the piano and sing along. Quite often crowds would gather when the pianos were played. Two or three people might share a piano. Other musicians would appear with their instruments. Jerram noted that he was surprised by how many people knew how to play at least a little bit, and felt free to do so in public.
Jerram doesn't say much about how the project is put together. Judging from the photos, some of the pianos look pretty old - they're apparently donations and cast-offs. The website for the London show credits a piano-moving company, but I wondered if the pianos get repaired and tuned. Then I read a NYT article, which said a "piano tuner who travels around on a bicycle, providing on-the-spot help, has had to bring in reinforcements to deal with all the wear and tear." Aw, brings a tear to my eye! You can see that the pianos and benches are secured and locked in place. One picture shows a plastic sheet pushed aside, so I guess they get protected this way from the rain. I also read about pianos in parks getting locked up at closing time, so maybe there's a group of volunteers who tend to the pianos each day.
Here
is the New York Times article about the London event. Here are a few more photos from the artist.